The Final Week in the Playoff Race
Six months of an often injury-plagued and gruelling regular season comes to a close this Sunday. By 10:30PM on Saturday (if not sooner) the Leafs will know if they will be gearing up for the second season or cleaning out their lockers after another failed playoff push. The loss last night would have definitely put the Leafs in an even better position but realistically they are still in control of their fate. They could hardly have asked for a better schedule. They play the last place Flyers, against whom they have a 3-0 record, the Islanders without
DiPietro,
who singlehandedly (well, with some help from
Kerry Fraser
) beat them twice, and the Canadiens who they have outplayed almost all season (damn shootouts). Two of the last three are at the ACC which the Leafs have recently turned into the fortress that it has been in the past. The Leafs are on a seven game win streak in front of their paying customers.
The rest of the contenders' schedule really plays out well for the Leafs as well. The Hurricanes travel to Tampa and play the Thrashers which are tough divisional rivals. The Canadiens travel to Boston to face the Bruins who could always decide to finally play the spoiler against their old rivals and the Rangers in New York where they have been almost untouchable in the last six games. If the Leafs knock off the Flyers and the Rangers do the Leafs a favour by beating the Islanders then they will basically be eliminated come Thursday night.
Overall the schedule favours the Leafs in terms of getting help of their rivals but ultimately, if they win their three games, those results are essentially extraneous to the team's ultimate success. The final push starts Tuesday at 7:30pm.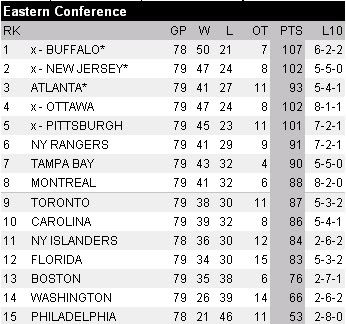 Maple Leafs - Tuesday Flyers, Thursday @ Islanders, Saturday Canadiens

Canadiens - Tuesday Bruins, Thursday @ Rangers, Saturday @ Canadiens

Tampa Bay - Tuesday Hurricanes, Friday Panthers, Saturday @ Thrashers

NY Rangers - Tuesday @ Islanders, Thursday Canadiens, Saturday @ Penguins

Hurricanes - Tuesday @ Lightning, Friday Thrashers, Saturday Panthers

NY Islanders - Tuesday Rangers, Thursday Maple Leafs, Saturday @ Flyers, Sunday @ Devils
Labels: Playoff Race